Terms Of Use
1. General
The BPS Intelligence Group (BIG) is an online community where BPS buyers share experiences and seek advice on BPS sourcing matters. Hosted by NelsonHall, the community consists of an invited group of sourcing executives from leading buy-side organizations across industries, and serves to provide an effective network for:
Understanding current BPS sourcing issues and concerns by sharing experiences
Seeking out examples of best sourcing practice from the BPS peer group
Developing thought leadership in BPS sourcing amongst the community members
The community consists of sub-groups, blog articles from the membership and from NelsonHall, a discussion forum, videos, selected NelsonHall research, and document sharing.
The community is for buy-side decision-makers only, and NelsonHall will not permit access to any individual from a sell-side (vendor) organization.
2. User's Acceptance of Terms of Use
These Terms of Use shall govern your access, visits and participation in the community. By using or visiting the community, you are subject to the Terms of Use. If you do not agree to all of the Terms of Use, you should not access, visit or participate in the community. NelsonHall reserves the right to modify, suspend or terminate the community and/or these Terms of Use from time to time at its sole discretion and without notice. NelsonHall reserves the right to refuse access to the community to anyone, at any time, without notice, and for any reason. The community is provided on an AS IS and AS AVAILABLE basis. NelsonHall will not be liable to you or any third party for any claims or actions arising or resulting from your use, visit, or participation in the community and for any modification, suspension, or termination of the community, or termination of your access to the community.
3. Membership
Membership of the community is subject to approval by community administrators.
You must be at least eighteen (18) years old or the age of majority in your jurisdiction to use and participate in the community. If you wish to have a community account, you must provide current, accurate, and complete information about yourself during the account registration process. By joining the community, you expressly agree to be bound by the Terms of Use as entered into by and between NelsonHall and you. You are responsible for maintaining the confidentiality of your community password and account, and assume all liabilities and responsibilities for any and all activities that occur under your account. You must maintain and promptly update any account information provided to NelsonHall in order to keep such information up to date, accurate and complete.
4. Contributions
We welcome active participation in the community through creating, providing, sharing and uploading information to the community such as blog posts, comments, ideas, topic suggestions, and questions. Contributions in the community are subject to these Terms of Use. NelsonHall assumes no responsibility or liability over the sharing of contributions among users.
In order to grant NelsonHall and other users of the community the rights, permissions and licenses contained herein, you represent and warrant that you either own or have all the necessary intellectual property rights in the contributions uploaded or shared to the community and that your contributions are non-infringing on the patent, copyright or other intellectual property rights of others. Do not post, upload, submit or otherwise provide contributions to the community that are protected by the intellectual property rights of others, unless you own or have the necessary rights or licenses to use such contributions, and such rights or licenses do not otherwise conflict with your ability to submit, upload or otherwise provide such contributions.
5. Blogs
Members are encouraged to post community blog entries and comments, and are expected to adhere to conduct as set forth in Section 6 below. Bloggers may create blogs generally discussing sourcing topics or NelsonHall research, for example. Although NelsonHall respects the freedom of bloggers and the contributions they post, blogs that predominantly discuss topics completely unrelated to the BPS Intelligence Group may be taken down at the sole discretion of NelsonHall.
6. Conduct
You must abide by the following rules of conduct:
a. Do not engage in any unlawful conduct in the community. In particular, do not post, publish, or distribute any defamatory, obscene, infringing or other unlawful material or information in the community.
b. Treat others in the community as you would expect them to treat you. Do not engage in personal attacks or any type of "flaming" of other users. Do not "troll," i.e. post topics or opinions that are designed to provoke a negative response from one or more specific users.
c. Do not use offensive language. If you have any doubts about whether a particular statement might be considered offensive by other users, do not post it.
d. Do not engage in disruptive activity in the community, such as persistent off-topic contributions or comments, or statements that might incite other users to violate these guidelines or participate in illegal activities.
e. Do not contribute content that contains photos, software or other material protected by intellectual property laws, rights of privacy or publicity, or any other applicable law unless you own or have rights to these materials.
f. Do not post any instructions, software or other materials that would allow participants or third parties to harm other users' computers or to inappropriately access software or websites.
g. Do not post any computer programs that contain destructive features, such as viruses, worms or Trojan horses. Do not employ any type of bots for the use of scrolling, showing multiple screens, or other activities that might disrupt online communication.
h. Do not falsely impersonate any other person in the forum.
i. Do not use the community to spam other users, including sending identical and irrelevant submissions to many different discussion groups, mailing lists or communities.
j. Do not misrepresent the source of anything you contribute.
k. While you may use the community to provide supplemental information about your own business that might be of interest to other users (without spamming them), do not rely on the community as the primary mechanism for operating or promoting your business.
l. Any space provided to you in the community is for your own personal use, and may not be sold, licensed, exchanged or bartered for any purpose, including advertisements.
m. You are responsible and liable for all your activities while participating in the community, including anything you contribute.
n. Do not rely on the community for the safe or secure storage of any materials, such as photos, documents and software. The community is not designed as the primary place to store any of these materials, and NelsonHall is not responsible for the alteration, deletion or loss of any stored items.
o. NelsonHall reserves the right to remove at any time, without notice, any contribution that violates these guidelines. NelsonHall also reserves the right at any time, without notice, to ban a user who has violated these rules of conduct from any sub-community or all community forums.
p. Some participants may post Internet website links in the community forum. NelsonHall is not responsible for the content on the websites associated with these links. In addition, NelsonHall reminds you that some content and links on the internet contain inappropriate material, such as malware or adult content that is not suitable for children or may be offensive to some users.
q. You are responsible for any actions you may take based on information or advice you receive while online. Use your own good judgment when evaluating information provided through the community or any other communication service. The decision to share information or conduct transactions with anyone is your own; therefore conduct your own research prior to making any decisions.
NelsonHall offers a suite of Speed-to-Source tools to assist strategic sourcing managers in saving time and money, while enhancing the quality of their BPS sourcing decisions. Speed-to-Source works by allowing you to quickly screen and assimilate the market and vendor information that is vital to your decision-making. This includes NEAT evaluations of vendors across many BPS service lines to facilitate rapid and reliable shortlist development.

View all NEAT evaluations
Digital Manufacturing Services 2020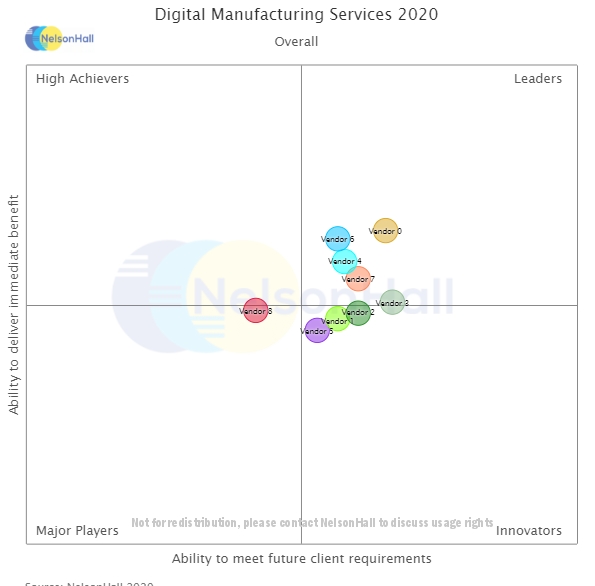 Digital Banking 2020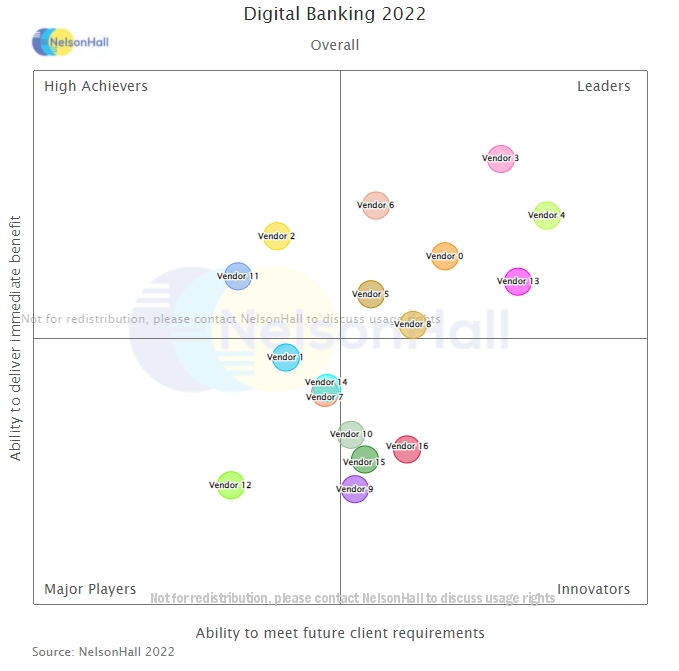 Cognitive CX Services 2020